GO TO:
Upcoming HIAT Event
Summer Tech Academy 2014
July 28-30
Argyle Middle School
9:00 AM to 4:00 PM

---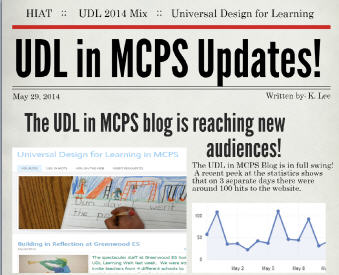 For the past 5 years, HIAT has supported 22 schools as they established professional learning communities (PLCs) to implement UDL in the classroom. Principals, curriculum specialists and teachers have gained knowledge in UDL and shared their reflections through online learning and professional learning communities.  The conversations around UDL have been insightful, and have provided many valuable and recorded examples.

The HIAT team, through the leadership of Kathie Lee, UDL Project Specialist, has created avenues for individuals interested in UDL to learn from teachers who are implementing UDL in their classrooms.  Please check out Kathie's UDL Blog to see some examples of UDL in action all around MCPS. If there are topics that you would like to explore or ideas that you want to share from your classroom, please contact a member of the HIAT team.
---
Harnessing Universal Design for Learning
in School-Based
Occupational and
Physical Therapy Practice
HIAT team members Eithne Ellis, William McGrath and Cynthia Walsh, presented at the American Occupational Therapy Association (AOTA) 94th Annual Conference and Expo in Baltimore Maryland on April 6th.  T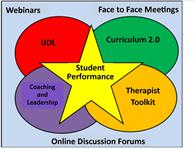 he title of their session, "Harnessing Universal Design for Learning in School-Based Occupational and Physical Therapy Practice" illustrated the two year progression of a UDL Leadership PLC for OTs and PTs in MCPS.  This innovative model of professional learning for therapists has supported the integration of UDL into school based practice.  The PLC has also enhanced therapists' leadership in regard to the MCPS curriculum and the Common Core State Standards. Resources from this presentation are available upon request, contact Cynthia Walsh, OT/L.
---

Top 4 reasons to help your Bookshare-eligible students sign up for individual accounts

4. Bookshare Web Reader – allows INDIVIDUAL account members to read books in seconds directly within the web browser.  No downloading and opening of specialized files required!
3. Bookshare MP3 version – allows students to put an audio file on any MP3 compatible device for listening.

2. Bookshare + Nook + GoRead App = 258,456 book titles at your fingertips, or at your desk, or in the reading corner, or anywhere…

1. Empowers students to utilize resources that will increase their access to printed materials

Do you know how to give your students access to individual memberships?
---
Summer Technology Academy
For the fourth summer, HIAT is offering the ever popular conference-style technology academy. There will be 16 workshops over three days--July 28-30. Participants can choose to attend up to 2 workshops per day.  These classes have historically filled quickly.  Preview sessions and their descriptions to decide which of the workshops you'd like to attend then, sign-up on PDO, search "Tech Academy."  
Take note!  We have a new venue for the Tech Academy this year: Argyle Middle School.
Everyday UDL Webinar Series
This year HIAT continued the Everyday UDL series with two new webinars. The webinar series is designed to highlight simple UDL "everyday" changes that are rela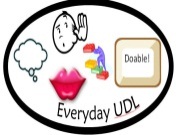 tively easy to incorporate and often result in immediate positive student outcomes. These webinars serve to share how teachers
in MCPS have changed their planning and instruction through embracing the principals of UDL. The webinar format is teacher interview with video and images of UDL in action in their classrooms. This year we featured Judie Weisletten, ESOL teacher at Cannon Road Elementary who shared how she incorporates UDL to support students with language barriers and Megan Sullivan/Ricky Tippets who shared how they harness free Web 2.0 tools to guide student inquiry based projects.
---
7th Annual E-TIPS Event
The 7th annual Educators using
Technology to Improve the
Performance of Students (E-TIPS) celebration was held on May 28, 2014. This year's guest speaker
was Natalie Roots, teacher at Rosa Parks Middle School.  Ms. Roots shared her profoundly moving journey as a student with learning disabilities highlighting the importance of UDL to support all learners. View this motivational speech.

The annual E-TIPS event is held to recognize MCPS staff who achieve E-TIPS Educator or E-TIPS Leadership status.  E-TIPS Educators must earn 75 E-TIPS hour in trainings and learning opportunities centered on UDL and technology to support student achievement.

E-Tips Leaders must earn 10 Leadership Points (annually) for specific outreach activities that promote the effective use of technology in their school and beyond.  Congratulations to all of the awardees!

In addition, 11 schools were recognized for their active Universal Design for Learning Leadership PLCs under the Expanding Bridges Grant from MSDE.
E-TIPS Educators    
Craig Crowley, Rosa Parks MS
Alisa Berger, Brookhaven ES
Harriet Mulongo, Brookhaven ES
Deborah Sockol, Herbert Hoover MS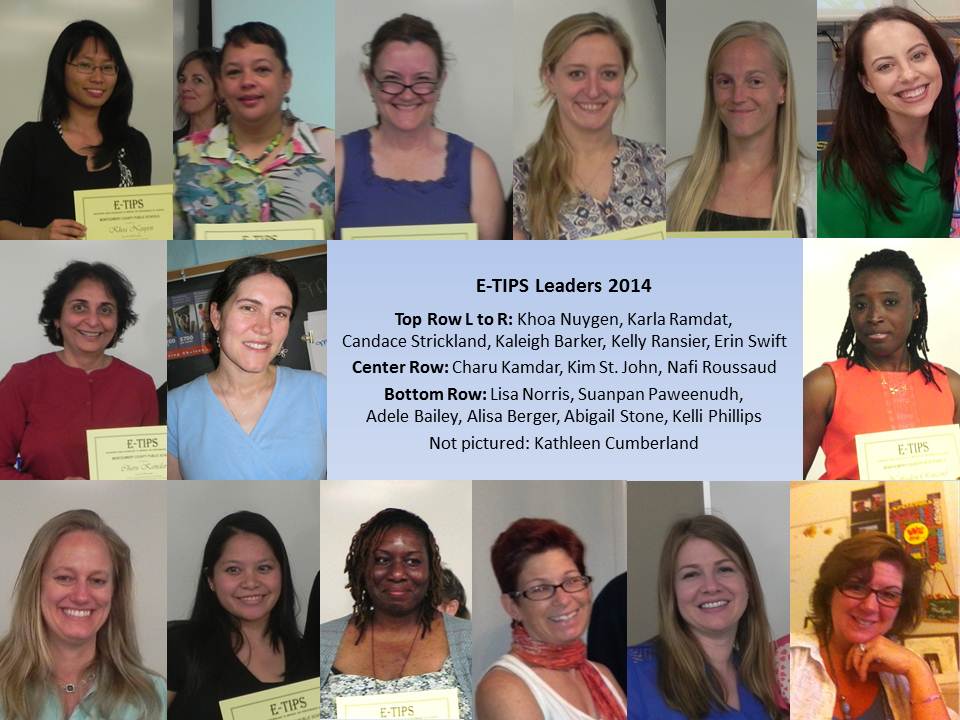 E-TIPS Leaders 

Adele Baily, Rocky Hill MS
Kaeleigh Barker, Wheaton HS
Alisa Berger, Brookhaven ES
Kathleen Cumberland, Clearspring ES
Charu Kamdar, Physical Disabilities Program
Khoa Nguyen, Martin Luther King MS
Lisa Norris, Great Seneca Creek ES
Kelli Phillips, Argyle MS
Suanpan Paweenudh, Dr. Charles Drew ES
Carla Ramdat, Clearspring ES
Nafissatou Rouzaud, Maryvale ES
Abby Stone, Great Seneca Creek ES
Candace Strickland, Department of Special Education
Erin Swift, Great Seneca Creek ES
Kim St. John, Rosa Parks MS
Nafissatou Rouzaud, Maryvale ES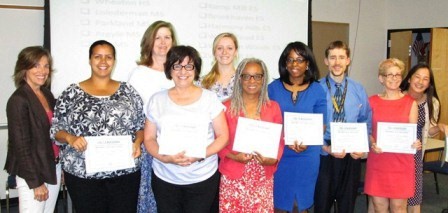 UDL School Leadership Teams: Expanding Bridges
Wheaton HS
Loiederman MS
Parkland MS
Argyle MS
Lee MS
Kemp Mill ES
Brookhaven ES
Harmony Hills ES 
Weller Road ES
Wheaton Woods ES
Viers Mill ES