Approved FY 2009 Program Budget
To view, download, and/or print information from these documents you must have a PDF reader like Adobe® Acrobat® Reader installed on your computer. Get Acrobat
Introduction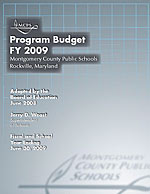 The Program Budget essentially breaks down recommended FY 2009 spending by program. All resources are identified by program, and the total matches the total operating budget.
Each program summary includes a description, recommendations for significant changes, and staffing and salary data.
Each summary also includes information about other resources used for the program in the current FY 2007 budget, the recommended FY 2008 budget, and the change between the two budget years.



Program Budget FY 2009 (PDF)
Complete Document
also Look at the budget by organizational structure
Updated July 31, 2008 | Maintained by Web Services